How to Transfer Large Files
If you are not a computer guru, certain computer tasks may appear simple at the first glance but turn out to be a bit tedious. File transfer between computers is one of such tasks.
Let's say you have a bunch of photos or a short vacation movie taken with your new camera. How to send or show them to your family or friends? The first idea that comes to mind - to send files via email - may not be the best. Here is why.
E-mail providers won't tell you this. They block large file attachments from being sent via email. They just don't have free resources available for that. They may let you send one or two photos as email attachments, but that's pretty much it. Often, if your email message exceeds 10-15Mb, they won't even tell you that it can't be delivered to your recipient. So... what to do?
Here is the answer: Upload the files to a safe storage on the Internet, and then include the path (or link) to those files in your email message. This adds a small extra step, but virtually guarantees the delivery. How would you do that?
Step 1. Upload files to a secure network storage
Check how large your files are. If they take less than 200Mb altogether which is may be 10-15 photos taken with iPhone, you can use one of those free file transfer services. For example, EmailLargefile.com. Unfortunately, Emaillargefile.com takes only 5 files at a time, so if you have more than that you may need to Zip them up before sending. Read more about how to use EmailLargefile.com here.
If you have too many files or they take several Gigabytes, or a DVD size movie, then use a better online file transfer service - EmailLargefile.NET.
First, log in to the site via the secure login page. Click Create New Package.
Then, add a quick description and drag & drop your files to the package: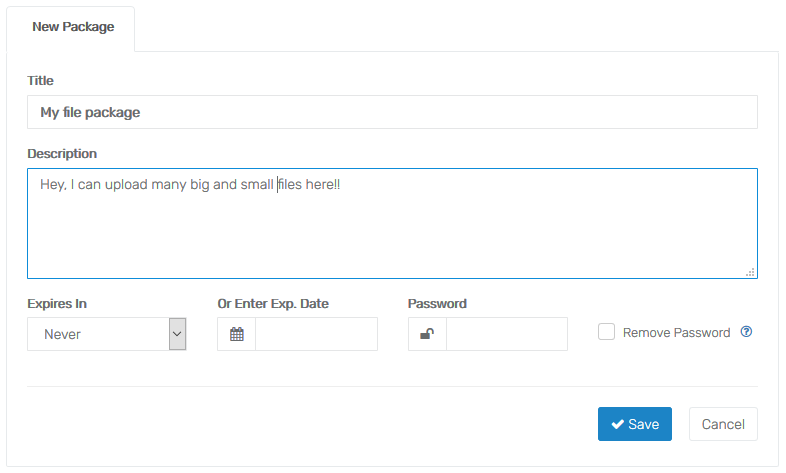 Then click the Link button up top: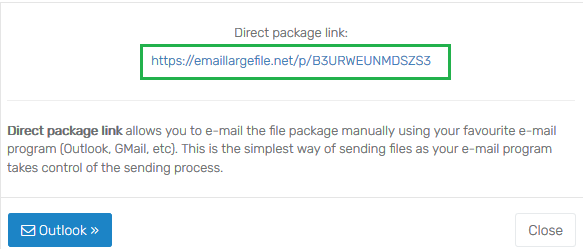 The text highlighted in green is your unique file package link. It's unique and secure. This is what you should send to your email recipients instead of file attachments.
Copy the link text into clipboard (select all and press Ctrl-C, or Command-C), or simply click Outlook to launch the email program.
Step 2. Insert file link into email message
When you are in your email program, compose your message as you would normally do. Then - somewhere in the message body - press Ctrl-V or Command-V (Paste) to insert the package link into the email message.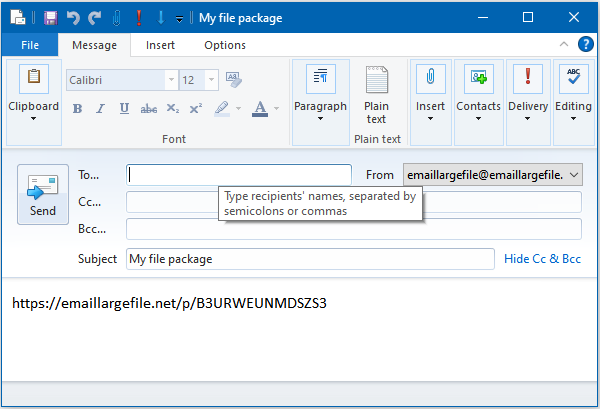 If you are not a registered user, it's a good idea to sign up now, because they offer a free month right now in January.
(Use promo code EMLFME)
When your friends receive the message with the link, they will be able to download your files: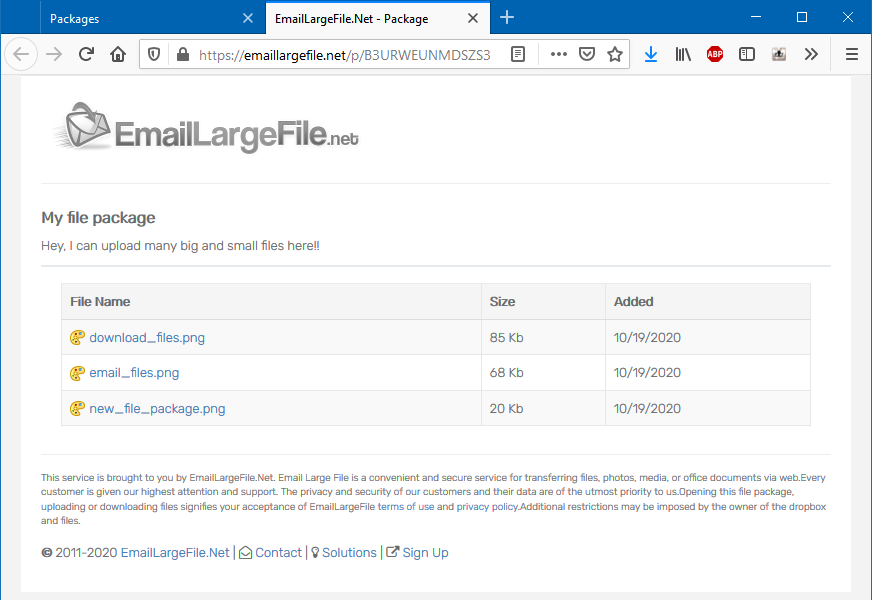 Conclusion
If your message with all attached files is 5-10 Mb or less - go ahead and use your email provider.
If you don't want your email message get blocked or if you need a delivery confirmation, upload your files to the secure storage and send a package link instead.